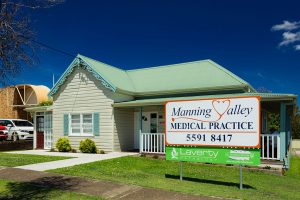 The Manning Valley Medical Practice offers a range of services and visiting specialists providing quality care for clients.  With a strong focus on female health, MVMP offers pap smear testing and other general gynaecological services, immunisation, in particular the suite of child immunisations and vaccinations and other paediatric services.
Patients can also access:
Chronic disease care plans
Health assessments
Diabetes care plans
Spirometry lung tests
Hearing tests
Immunisation clinics
Industrial and insurance medicals
Minor surgical procedures
Mental health care plans
Reviews of home medication plans
Antenatal and postnatal care
Skin cancer management
ECG heart checks
Audiologist
Pathology collection
Mirena insertion and removal
Implanon insertion and removal
Manning Valley Medical Practice is within walking distance of the Taree Manning Base hospital.